Christmas in the Pioneer Valley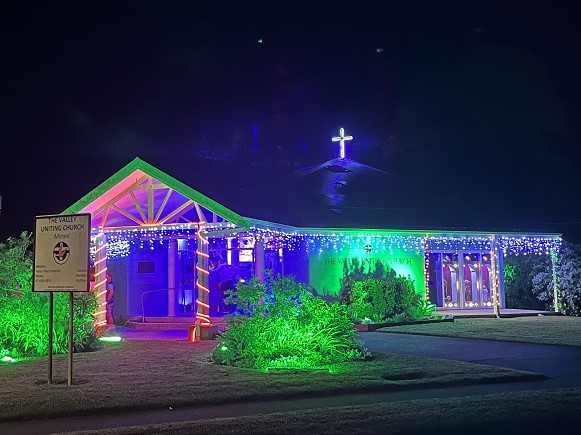 The Pioneer Valley was alive with approximately 60 people singing Carols at the evening Youth and Worship Service in The Valley UCA, Mirani on 18th December, 2022. For the past few years, Elder Bruce Kerr, has put a lot of effort into the 'lighting up' of the exterior of the Church along with the refurbishment of the animated story of the Birth of Jesus.
The Valley Congregation enjoys the presence of young people in their church and at the Carols Service they sang "Little Drummer Boy" accompanied by Elder Beth Higham on the Keyboard and one of the young people on a drum. During the Service the young people were presented with a Christian Book from their leader, Elder Morelle Coxwell. Morelle does a fantastic job with the children and youth throughout the year and often photos of their craftwork are published in the weekly Church newsletter, 'The Window'. Dianne and Suzanne help with the Sunday School. It was wonderful to have approximately 55 congregation members and visitors filling the pews in St Andrew's UCA, Walkerston on Christmas Eve.
Rev Jim Brown lead the Service, bringing the Good News of Jesus Birth to those in attendance. A number of carols were sung and a brief explanation of each carol presented. Members of St Andrew's Congregation brought the Story of Christmas through the Bible Readings. The Pioneer Valley Parish has been without a resident Minister for the past twelve months. We give thanks to God for the many Blessings our Parish receives and acknowledge the invaluable help of Lay Preachers, Ministers, Guest Preachers and our Congregation Members who bring us the 'Word of God' each week.
Happy New Year everyone.

Articles in this newsletter