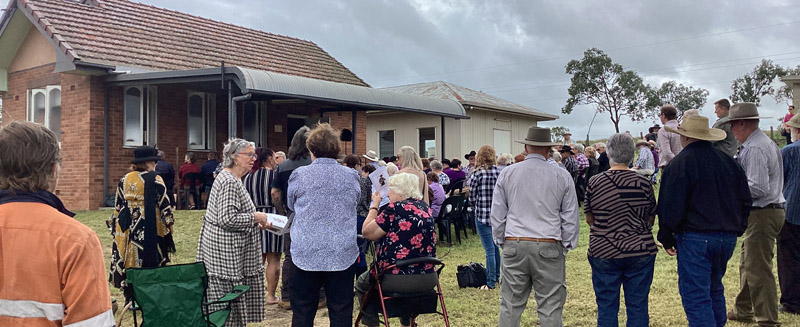 A Bushley Epilogue
The Bushley church was briefly reopened on June 6th 2022 to celebrate the life of Don Barnett. Don was one of the last "brick makers". He carted bricks made by other members of the congregation for the building of the church. Don was a polymath. He was a pilot, driving instructor, truckie, gem cutter, skilled mechanic and welder, operator of earth working machinery, mustering, and a singer and performer who taught himself to play guitar at the age of 70. One of his country music mates marvelled at his skill for someone who learnt so late in life. Don and his wife Denise became regulars on the country music circuit around Rockhampton. He was three times Queensland "Truckie of the Year" and held the Australian title once.
At a very conservative estimate over 150 people attended the service, with fifty or so in the church and plus most of 100 chairs outside filled plus a number standing. Most of those in the church building were family. Don had five children, 17 grandchildren and 36 great grandchildren. Above all the rascally Don with his mischievous sense of humour was a mate whose loyalty and ability to connect with others was the stuff of legend.
This ability of Don to connect with others inspired Rev Andrew Gillies to share a message about Jesus as "a good mate" inspired by John 14. This passage was also very appropriate for Don because he was given up for adoption as a baby but was not left as an orphan because he had wonderful adoptive parents.
In part Andrew's message was "Being a Christian is partly about loving God and your neighbours, but it's mostly about how God loves you. It's about how God is a good mate or a good friend to you. Jesus says, I'm going away for a bit, but it's to make sure that you have a place with me. It's to make sure that you are always welcome at my dad's house. You will always have a bed; you will always have a room. You will never be alone; you will never be an orphan. Jesus God among us, God become one of us was such a good mate, that he fed the hungry, healed the sick and even gave his life for you."
Submitted by Rev Andrew Gillies