Easter at Fitzroy UC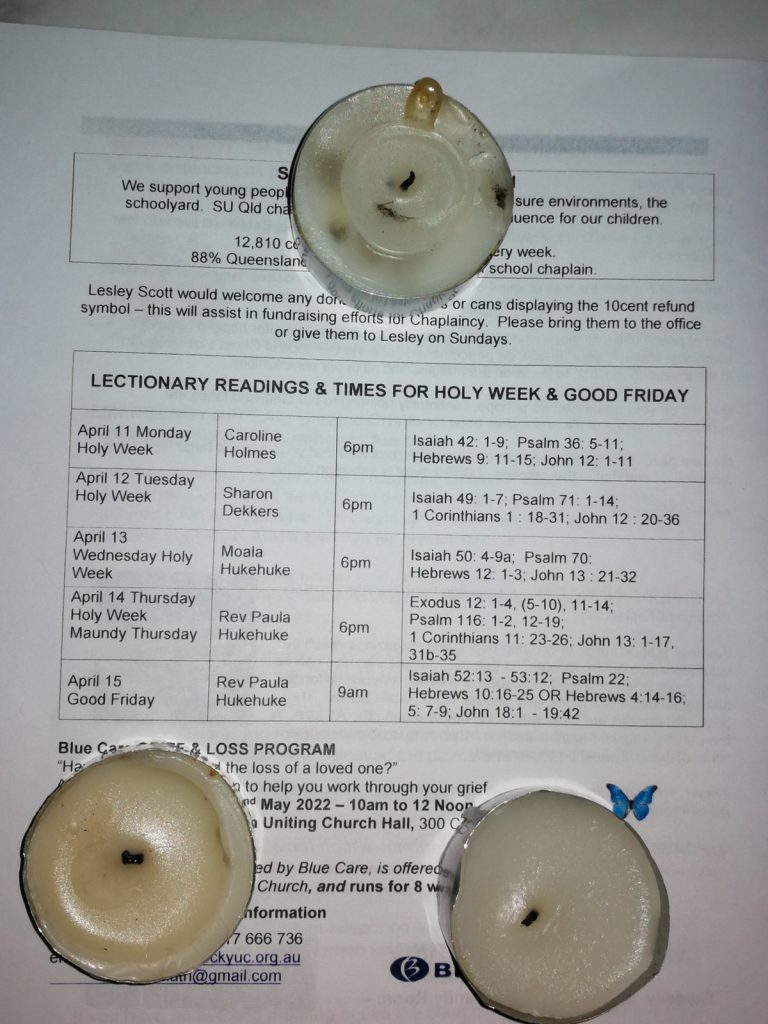 The Easter season which provides the foundation for our Christianity was a time of fellowship and collective endeavour for the Fitzroy Parish. This most holy period in the Christian calendar offered us a sombre time to reflect upon our faith and renew our relationship with our Lord. It was also a period of great joy and hope with the prospect of continuing love and enlightenment, serving in the name of our holy father.
The first apostle spoke boldly: "I have seen the Lord!" The Fitzroy Parish took this moment as a point in time to plan their Easter services. A moment from which sadness had turned to joy, fear turned to exaltation, timidity turned to boldness.
Palm Sunday was a joyous occasion. The church was dressed in greenery and the service began with a children's procession. The tiny participants waved palm leaves as they marched around the church against the backdrop of the song, "Make Way for the King of Kings". Each congregation member received a palm cross as a practical reminder of this special event in the Christian year. The children learnt about the many Easter icons and their religious origins. They then made Easter nests in preparation for Easter Sunday.
Just like the women who were the first witnesses to the Resurrection, women took a commanding role in delivering Holy Week services. Held nightly the congregation was privy to sharing each step in Christ's journey. This culminated in Reverend Paula Hukehuke conducting the Maundy Thursday Service in which he washed congregation members' feet and undertook the Last Supper.
On Good Friday there was the Service of the Cross and a time for reflection. A black sash hung from an old wooden cross, providing a focal point for the service which was broadly attended by both the congregation and members of the wider public.
The Easter Sunday service was a wonderful time of blessing for our congregation, starting with the lighting of the Easter Candle and procession. After the service the congregation was treated to a traditional Tongan feast courtesy of Reverend Paula and Moala Hukehuke and friends. This was a wonderful time of fellowship and relationship building and a fitting end to the Easter services.

Articles in this newsletter