Easter in the Pioneer Valley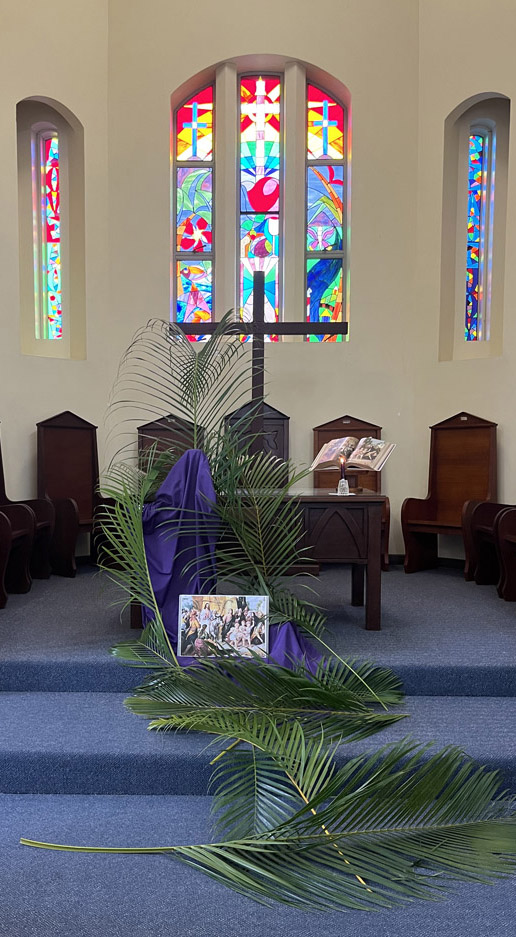 St Andrew's UCA (Walkerston) was decorated with palm fronds for Palm Sunday Worship and Palm Frond Crosses handed out to our congregation members as they arrived at Worship. The Valley UCA (Mirani) congregation members entered their Worship Service waving Palm Branches.
Although our congregations in The Valley are small in number, we do do our best to make the Worship Services meaningful. The Valley Church has a cross shining out on top of the church as a message to the community. The Valley Church didn't hold a Service on Good Friday however members of the congregation were encouraged to attend the Anglican Church in Mirani or come to Walkerston.
St Andrew's Sermon on Good Friday was entitled "So, what on earth is "good" about Good Friday?" and was well received. During the singing of the hymn "When I Survey the Wondrous Cross", the opportunity was given for Congregation Members to light a Candle of Hope.
As a focus point for the service a closed tomb had been placed at the front of the church and small crosses and nails were handed out to the congregation.
On Easter Sunday we had the privilege of welcoming Rev Peter Aay as our Preacher. The tomb was opened and once again provided a focus point with the sign "HE IS RISEN' placed on it. Members in attendance appreciated the symbolism of the tombs. Congregation members received small easter eggs in a "He is Risen" basket at the Easter Sunday Service.

Articles in this newsletter