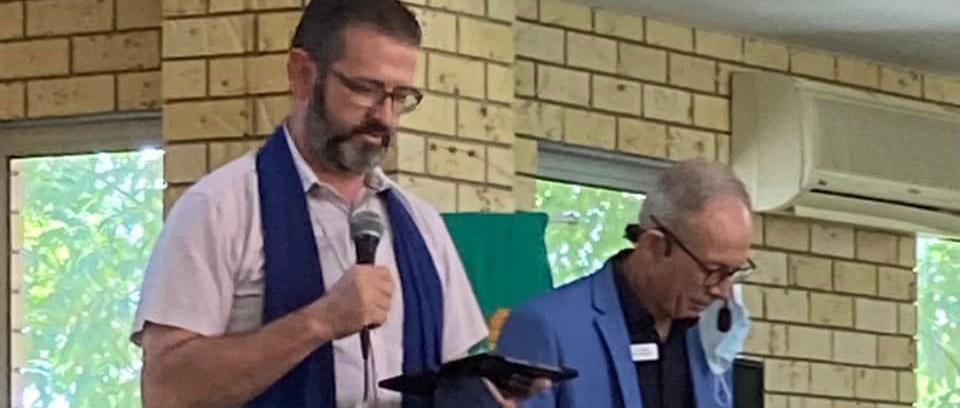 Rev Jim Pearson
A service of closure was held for Rev Jim Pearson at Emerald Uniting Church on 6th February, marking the end of his service as Minister of the Word in that centre which began in September 2015. The large congregation included Jim's family from Brisbane, members of Clermont and Capella UCA, as well as regular attendees at Emerald and people from other churches and the community.
Presbytery Minister, Rev Scott Ballment, led the service of closure, which included communion. Jim's granddaughter Abby kept a close eye on her Pa, as you will see in one of the photos. (We found out later that she was imitating the interpreters who sign at press conferences etc) The service ended with the Conclusion of Placement Liturgy; always a deeply meaningful time to reflect on years of ministry and a new season arriving.
A farewell lunch followed the service, at which Tony Simmons was MC. Speeches were made by many people thanking Jim, Jane and Michael for their contributions to Emerald Uniting Church and Emerald community. Many people commented on Jim's magic tricks which featured frequently in the children's messages and as an incentive for good behaviour at RI. Doug Core, Ebony Lee and Elize Le Roux prayed for Jim, Jane and Michael.
The farewell speeches were mixture of sadness and hope, tears and laughter. Jim reflected on his time in Emerald as being a time of challenge, growth, joy and sadness. During his time in Emerald their son Philip was married and his 2 grandchildren were born – times of immense joy. Sadly it was also during his time here that their daughter Elizabeth died suddenly. Jim and Jane both thanked the congregation for walking with them during their overwhelming grief. Whilst they will miss the congregation and the friends that they have made here in Central Queensland they anticipate with delight being able to be close to Philip and his wife and their 2 grandchildren.
Jim has moved on to a chaplaincy placement at St Andrews Hospital, and we wish him God's blessing for the future. As a presbytery we give thanks for Jim's years of faithful service.

Articles in this newsletter