Welcome to Rev Paula Hukehuke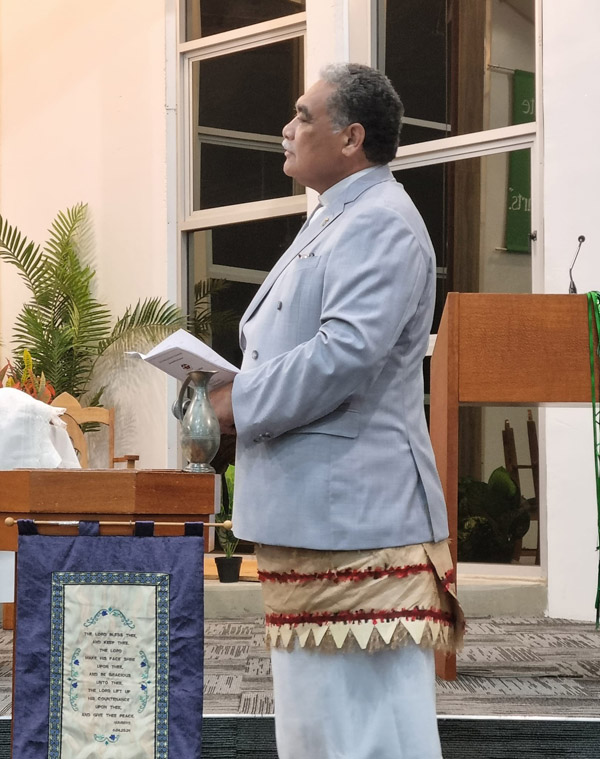 On 28 January 2022 Rev Paula Hukehuke was inducted as Minister of the Word to our Fitzroy congregation, which includes North Rockhampton and The Caves.
Welcome to the Presbytery of Central Queensland, Paula! Paula says he is excited at the opportunity to serve at North Rockhampton, and looks forward to seeing what God will do.
The same is being said at North Rockhampton, with people excited to finally have Paula among them.
NARRATION OF STEPS – Rev. Paula Hukehuke
Paula and his family migrated directly from the Kingdom of Tonga to Australia in November 1988 as permanent residents under the Australian Skilled Migration program.
Paula's intention of coming to Australia was to pursue further studies in medical-health-related fields. But before they left Tonga, the LORD touched him in a strong way which changed everything for him through a family devotion by his older brother who was a church minister, from Exodus 33:15-16 about Moses' insisting that the LORD would never leave them.
After spending their first 4 months at Nhulunbuy, Northern Territory, with Josephine's brothers and their families, they moved back to Brisbane in 1989.
Paula and his family have attended Park Church Uniting Church at West End/Highgate Hill since then and raised his family in this congregation. Paula became a lay preacher and an elder and held various roles until 2017 when he became a Pastor and Chaplain.
While Josephine was immediately employed upon arrival in Australia as Registered Nurse at Princess Alexandra hospital, Paula was babysitting their three children and was in a time of prayers and discernment as to what to do, since the LORD has changed his heart from pursuing his dream.
Paula studied Information Technology part-time at Queensland University of Technology while a full-time babysitter and serving at Park Church. Paula later worked as an Analyst Programmer for the Queensland Police Service and then as Lead Performance Tester in Public Safety Business Agency.
While working, in 2005, Paula wanted to do further studies and again went into a time of prayers to discern what to study. This time the LORD called him to be a "slave of the Gospel, study it, live it, and proclaim it." In response, Paula immediately enrolled at Trinity College the following day in his lunch break and studied part-time for Master in Theology from Australian Catholic University, and was completed in 2010.
Hi s minister at the time encouraged Paula to do PoD and he did that under the Supervision of Rev Professor Neil Pembroke. After the PoD completed in 2009, Paula felt that he was still needed at Park Church, and more so when Park Church did not have a minister for two consecutive years.
As time went on, Paula felt that the LORD was urging him to move on. In 2016, Paula became a Pastor and in 2017 Paula took study leave from Public service and in April, Paula took up the roles as Pastor at Bracken Ridge Uniting Church and also Chaplain at Bluecare Lawnton Pinewoods and Kallangur Pilgrim facilities. Paula later resigned after affirming his call to serve the Lord.
During his first year as Pastor / Chaplain, Paula felt strongly that doing ministry was what he really wanted to do for the rest of his life. After committing his life fully to serve the LORD, Paula also needed to have a permanent relationship with the Church. Upon inquiring about this relationship, Paula was guided by the Presbytery of Moreton Rivers to become a Candidate for the MOW.
So, the PRC interviewed him and Presbytery approved and sent him to the Synod Selection Panels and he started the Formation Program in 2019 for the next two years and he also did a couple of subjects from TCQ. Paula has completed the academic requirements and the Formation program; he has been endorsed by the Board for Christian Formation and his Phase 2 Completion Certificate has been issued by the President and General Secretary of the Assembly of UCA.

Articles in this newsletter